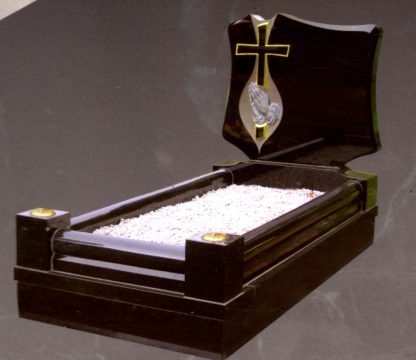 Shown In Ebony Black Granite
A unique scooped and chamfered square headstone with hand carved unpolished praying hands and polished cross.  Round moulded kerbs with front corner posts, sitting on granite landings.  Shown with white stone chippings.
Price for a Black Granite Memorial, Including first 100 letters of Inscription, Pots as shown, Chippings, All In One Foundation & Fitting £4400.00 + VAT.
Black Granite Landing: Extra £500.00 + VAT
Gold Leaf Cross – Extra
Designs – Extra
Please click on the colour chart opposite to see additional cost for the memorial in your chosen colour.