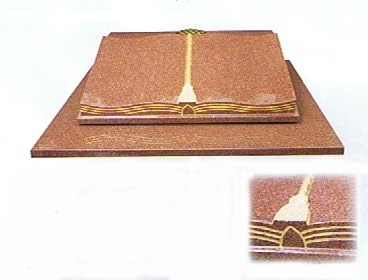 The classic desk top with a hand carved book shown with gilt pages and dividing tassel resting on a base plaque.
Price for a memorial in Black Granite, including, 1 flower pot, gilded tassel & pages and fitting:
Standard Size:  Base Plaque – D30″ x W24″ x T1″, Desk – W24″ x W18″ x 4″ to 2″  –  £750.00 + VAT
Other sizes are available.
Please click on the colour chart opposite to see additional cost for the memorial in your chosen colour.